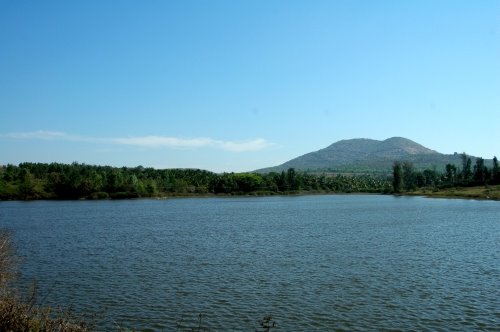 One fine day, a friend called & announced he is getting married in March first week, that too in Udupi. And I had a reason to ride. Amidst busy schedule, I managed to take 2 days off & so was Srik. On a Saturday morning at 5.30AM (an hour's delay as per the planned start time), we took off towards Udupi. We had 4 days in hand, a wedding to attend and also on the agenda was to meet 2 bloggers from Udupi & Mangalore.
After 14 hours and 40 minutes & travelling 440 KMs, we were in Udupi. While I waited outside the hotel guarding our luggage, Srik was inquiring for the rooms. The initial leg of the journey was in a fast lane. We rode non-stop till Channarayapatna, a distance of 150KMs. We had covered more than 30% of the distance in first 2.5 hours. We had all the time in the world to reach Udupi.
A lazy breakfast at Kamath and then back on the saddles. From there onwards we made progress slowly as compared to the initial leg. Another two hours and we were near Belur by 10.30AM. As we had plenty of time we decided to spend some time in Belur, which was not in the initial plan.
Route taken on day one:
Bangalore – Hassan – Belur – Chikkamagalur – Sringeri – Agumbe – Hebri – Udupi