Last one in the guest posts series – by Mridula Dwivedi. Mridula, a professor based out of Delhi is an avid traveler. She shares her rafting experiences in this last of the guest post series.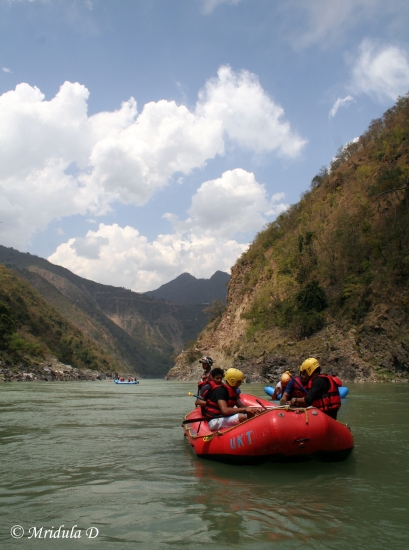 In the last two months I visited the Rishikesh region twice. The first time I went with family and as our daughter is small we could not do rafting. The second time I was part of a large group and we were staying at Rimo Expeditions campsite just opposite the KMVN Kaudiyala. The campsite has tent style accommodations and rafting was the main activity.
We did rafting on two days of our 3 day stay. On day 1 we took it easy as we had arrived in the morning itself. On day 2 we rafted from Devprayag to Kaudiyala and on day 3 we rafted from Kaudiyala to Shivpuri. I sincerely wish we could have completed the entire trail till Rishikesh on day 3 but we were short of time as we were taking the Shatabdi Express in the evening from Haridwar.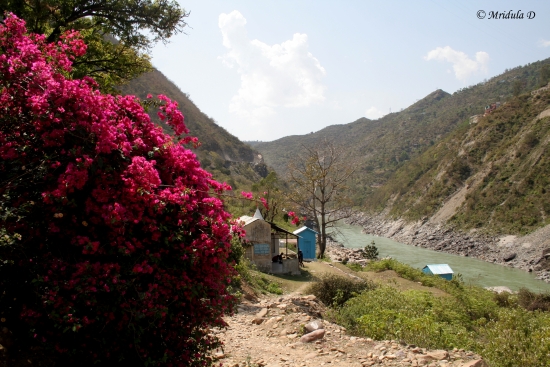 This was my first try at rafting and I have to say I thoroughly enjoyed my experience. The good folks at Rimo took us on a mild stretch on the second day. The stretch from Devprayag to Kaudiyala is calm and ideal for getting introduced to rafting. So what do you have to do when you go rafting? Basically we were given a life jacket, a helmet and a paddle each. You put on the life jacket and the helmet and assemble to listen to the instructions by the experts who are going to be present in each raft. Usually 6 people plus an expert go in a raft but I guess they can take 8 plus the expert as well. I liked the instruction given by Gunpalji a lot. His first few lines were, "agar instructions nahin follow karoge tou bahut paani pilaunge" (If you do not follow my instructions I will make you drink a lot of water).
Soon we were in the rafts and on our way to Kaudiyala. While we were going to Devprayag by bus I was clicking pictures of the Ganges from the moving bus. It was quite an amazing experience to go back all those 30 kilometers sitting in a raft right in the middle of the same river. Also rafts have a safe bag in which you can keep your camera. They let you take it out in calm waters and click pictures.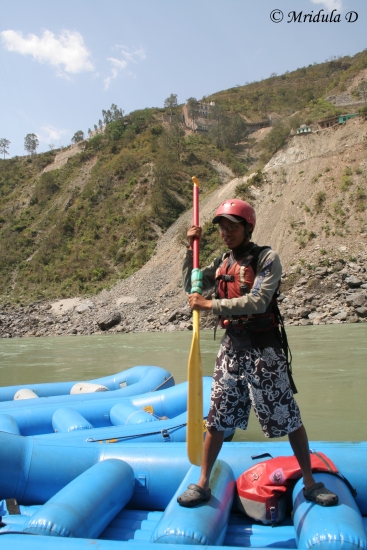 On the Devprayag – Kaudiyala leg the highlight was being able to get into the river in the placid waters. What happens is that when the rafts enter calm water they let you hold the rope attached to the perimeter of the raft and get into the cold water. It is great fun. We did it many times. But as the water was calm we had to paddle a lot. We started rafting at 11.00 am and we reached Kaudiyala at 4.00 pm and literally wolfed down our late lunch!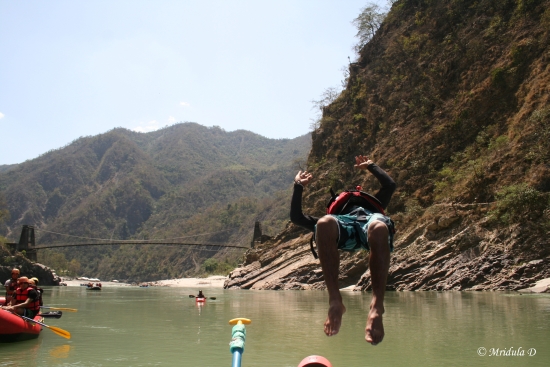 On day 3 we were rafting from Kaudiyala to Shivpuri. This stretch involves going over a few rapids. The most interesting one we faced is called the Wall. Here the water rises quite high like a wall in front of you and at that point you feel you are paddling for your life! Getting wet is a certainty and being thrown out into the water a high probability. After the wall every other rapid feels easy.
Part of the instructions is also about how to indulge in a water fight with other rafts. If you lift your paddle in a particular way while crossing another raft at a close distance, you can drench them thoroughly and the experts are quite good at it. Be it the water fights, going through the calm waters or crossing a rapid, rafting is a smashing experience.
Photos by Mridula Dwivedi