Just when I was thinking that I'm not getting chances to travel around, I had an opportunity to visit Singapore last week. Unfortunately my trip started on a Monday morning and ended on a Friday evening (yes, not an ideal itinerary to explore any place). And on top of it since it was a business visit, I was confined till evening attending meetings & trainings. Even then after long hours at office, I somehow managed to sneak out of the four walls couple of evenings and roam around. Here are few observations/ impressions – (my observations are more or less like a blind man commenting on an elephant just by touching one part of it)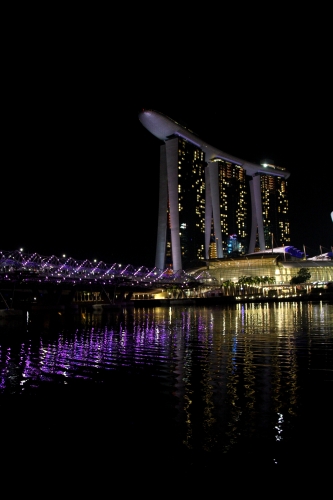 An isotope of the UK
The moment I got into the taxi at airport and started towards the hotel, I felt I was in the UK. You take a big bustling city from the UK, cut it out of the country and throw it away into the sea somewhere near the Equator – that's Singapore for you. Having spent some time both in England and Scotland, I couldn't stop myself in comparing the two countries. I saw so many similarities – infrastructure, the tubes & buses, driving rules, unpredictable weather. and yet the place is so different in many ways – the culture, people, the languages.
World shrunk into an island
Talking about the people and culture, Singapore is a place where the world is shrunk into an island. You find people from all over the world, of different countries, races, and speaking various languages. I heard quite a few different languages from different parts of the world. And as with the world's population ratio – it's not surprising that there are more people of Chinese & Indian origin.
WiFi yes, Sim card no
Most of the roaming around on the evening of day one was spent in searching for a prepaid Sim card for me to use. But the search went in vain, maybe I was searching in wrong shopping malls since they were not in the regular tourist area and they were close to the hotel I was staying. Surprisingly, I was connected all through out thanks to WiFi networks – I could find WiFi networks almost everywhere I went, but not Sim. After looking out for the Sim for two days, I decided not to buy since I could live without one for next 3 days.
Architecture
One of the evenings, I found myself in front of Marina Bay Sands and then decided to roam around aimlessly. Perhaps the best thing I did during my stay there. The walking around went on for couple of hours, close to 10 KMs. I was left gaping at the buildings with amazing & wide variety of architecture – starting from the Marina Bay Sands, Esplanade, many more buildings unknown to me.
It's raining, no it's not
Being closer to the Equator, Singapore doesn't have distinct seasons – it rains, shines, thunders 365 days a year. On the first, I looked out the window to see dark clouds gathering and within no time it started pouring like I had never seen before. After 10 minutes, there you go, there was no sign of a single cloud and it was a clear sky. When I stepped out for lunch in another 30 minutes there was no sign of a single drop on the ground as if it had not rained for weeks!! And if you are not a sound sleeper, you are bound to get awakened by the loud thunders during night 🙂
That was Singapore through my eyes. I might be wrong here, but that's how I got to see the island country.