A guest post by Radha Rangarajan, a photographer and wildlife enthusiast who loves to travel, her camera in tow. She dreams of traveling to all the rainforests of the world and wants to photograph the birds of paradise. Here is her account when she came face to face with King Cobra in Agumbe.
My first memory of Agumbe is from a school trip to the Western Ghats. I was in class 8 and the famous Agumbe sunset was to be the highlight of the trip. Heavy rains and a landslide played spoilsport that year and Agumbe was moved to the "visit someday" list. 15 years later, my wish came true. Dilan Mandanna, popularly known as Mandy was going to organise a two day trip, with accommodation arrangements at the Agumbe Rainforest Research Station (ARRS). I simply had to sign up. I could finally put my newly acquired macro lens to some good use. After a successful leopard-tiger-elephant-hornbill-falcon sighting in Kabini the same week, I was looking to achieve nirvana with a sighting of the King.
Agumbe is a beautiful little village that sits on a plateau on top of the Someshwara Ghat, 643 meters above sea level. Surrounded by luscious green rain-forests, it is known as "Cherrapunji of the South" for a reason, it gets an annual rainfall of up to 11,000 mm. Agumbe is home to all the Western Ghats rain-forest species of trees, mammals, birds, insects, frogs and snakes. However, the regal King Cobra, the world's longest venomous snake is the King of the jungle in these parts.
A mad dash across the Majestic bus stand and a rickety 10 hour bus drive took me to a very rainy and wet Agumbe early in the morning. It had rained there all night. Aching muscles were forgotten the second Mandy announced that he had seen a male King the previous evening and was quite sure we'd be able to see him again. After dumping our bags and donning leech socks, we headed out to find the King. His Highness was resting there, by the side of the forest path, right outside the bushes – 10 feet long, a rich brown, his scales glistening with raindrops, body all curved up as if to camouflage the inimitable length. He had devoured a heavy meal the previous evening and didn't seem too keen to move, he just kept a watchful eye on us, his admirers. In all my imagination, I had envisioned the King to be a spectacular snake, but nothing could have prepared me for this sighting. Goose bumps. Breathlessness. Loss of speech. Fear. Respect. I felt a mix of everything. I just stood there, gaping, with my mouth open. The beauty of the King is incomparable. The sound of a camera shutter next to me brought me back to reality, I had a camera in my hand to make an attempt to freeze this moment. Photographing the King is humbling, you are fully aware that you can do no justice in saving that intimidating stare for posterity, yet, you just go click-click-click.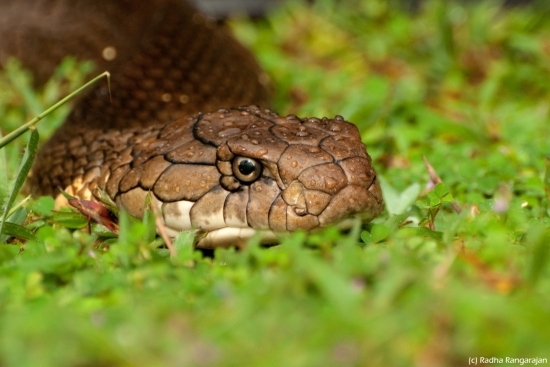 The King Cobra has a striking distance of 2 m, around 7 feet, they are fast and agile. When threatened, the King raises its upper portion of the body, around 4-5 feet, so it basically looks at you straight in the eye and gives out a hiss that's almost a growl, before doing its business. But, the King doesn't like to bite. As much as possible, they avoid confrontation, they bite only when cornered or provoked. Before I forget, there is no antidote to a King Cobra bite.
ARRS was set up by Romulus Whitaker and has been operational since 2005. Many herpetologists, conservationists and researchers work on their projects based out of this research station. ARRS helps out in King Cobra rescues around the region. Though King Cobras are revered, they're prone to some harm from humans when they venture into human settlements. Among many other projects, the King Cobra Radio Telemetry Project is currently operational here. With the help of telemetry, the researchers study snake movements. They record daily and seasonal activity patterns of King Cobras which helps in understanding their behaviour and eventually, in conserving this flagship species. The ARRS has a common dining area and common bathrooms. Serve your own food, wash your plates, don't leave behind any plastic and give the staff their space to work is the way of life if you are a visitor.
It kept raining the entire day and we headed out to look for the King's courtiers. A Green Vine Snake clung to a twig, completely camouflaged. Our presence brought out the black and white under its scales, a sign of aggravation.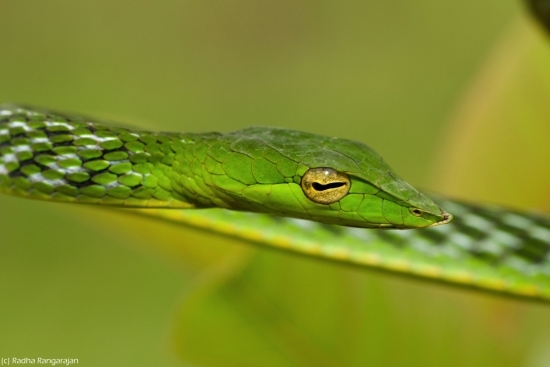 A Malabar Pit Viper sat pretty in the bamboo, only a watchful eye can spot it, the shiny yellow scales give it away. It curls up into an S shape, defensive, its striking position.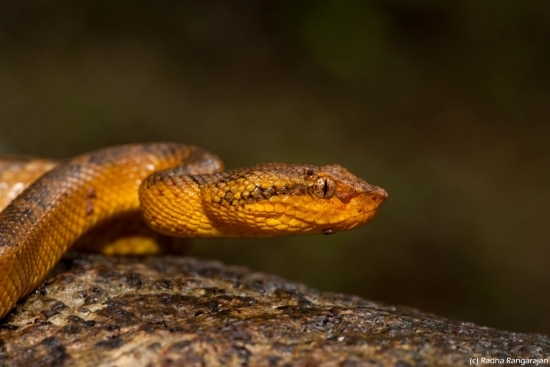 A few steps ahead, an incredibly cute baby Nilgiri Keelback greeted us.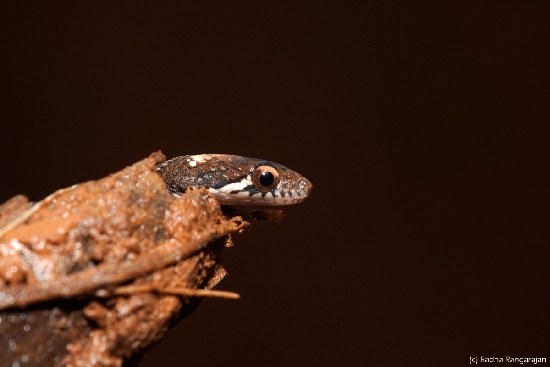 At every step we met wondrous new creatures – frogs, caterpillars, dragonflies, damselflies, butterflies.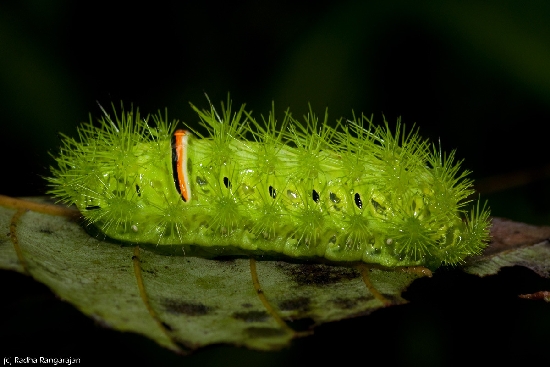 The flora and fauna is so rich that you can spend an entire day photographing things at a single spot and you would still not be done with it.

A Malabar Trogon called for its partner, Yellow Browed Bulbuls zipped past our head. A Paris Peacock skimmed along, a Red Helen followed course. A Malabar Giant Squirrel dropped half eaten figs on our heads. A Crested Serpent Eagle called, gliding high up in the sky. I was in paradise.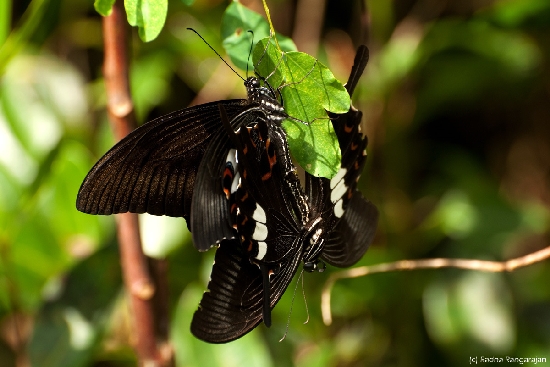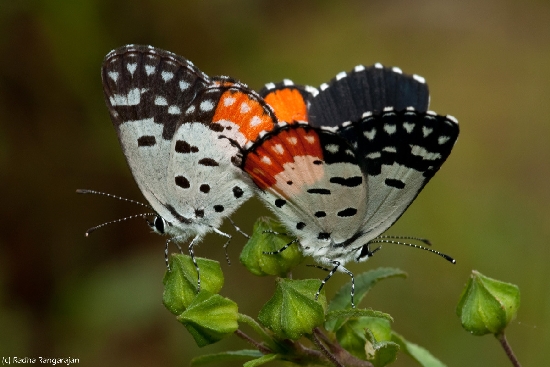 White Bellied Treepies called out to us, so did Malabar Grey Hornbills. We went crawling across a huge field to shoot Malabar Larks and they took off before we got our best shots.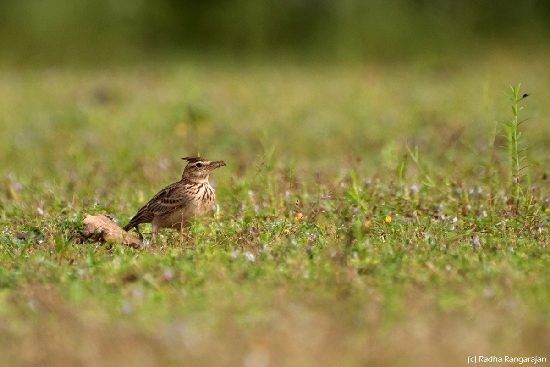 One evening, we made a trip to the Jogi Gundi falls. We walked under trees that made us feel like we are a few cms long, climbed over fallen trees, stepped over rocks, slipped down some leaf litter and reached a lovely waterfall with creamy white water gushing down the rocks.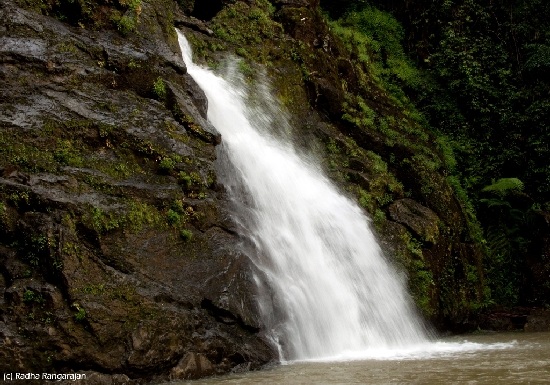 Green colored moss-laden rocks, wild orchids, lizards and frogs added to the beauty of the scene.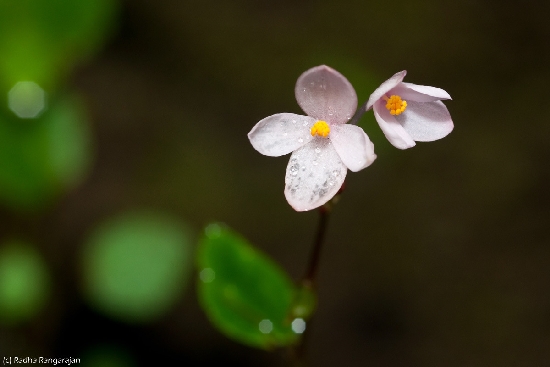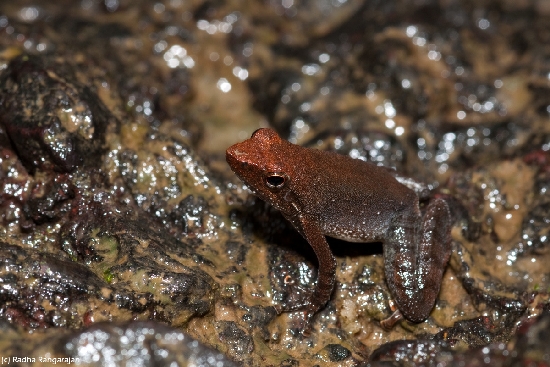 And leeches. They were everywhere, crawling up our leech socks till we flicked them away, on our bags, cameras, there's no getting away from them. The only way to not let them bother you is by not paying them any attention, alas, I am yet to reach that stage. I've had my share of experiences with leeches in Valparai, but the sheer number of leeches here was distracting. Much to the amusement of everybody in the group, a leech made its way to my camera neck-tag and then on to my cheek and gave me a peck before I managed to flick it away. As morbid as it sounds, yes, I've been kissed by a leech!
It was a cloudy, rainy day and we didn't expect to see the Sun set, but we still went along to the sunset point to check out the view. As expected, the clouds had taken over the valley and every time they drifted apart, I tried to get a couple of images. Finally, the shy Sun made a brief appearance before the clouds took over completely.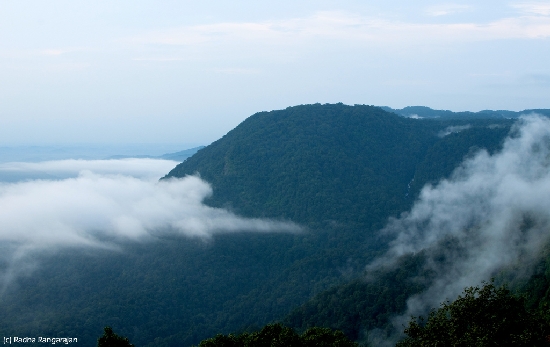 If you are staying at the ARRS, a night walk is a must. Agumbe is a different person entirely at night. It gets insanely dark and all kinds of creatures are up and about. Armed with torches, we set out to look for snakes, scorpions, tarantulas and frogs. One of the first things we heard was a female Sri Lanka Frogmouth calling and we followed its call for quite some time before we spotted the elusive beauty. Mandy told us that no Frogmouth images had ever been made in Agumbe, our records of the sighting would be the first.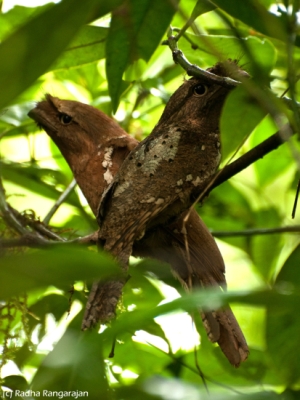 Typical to rain-forests, you can find exotic fungi at every step.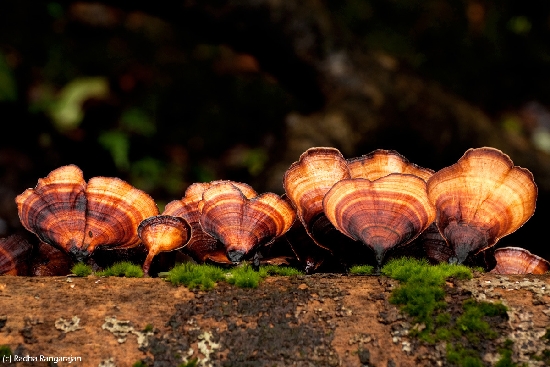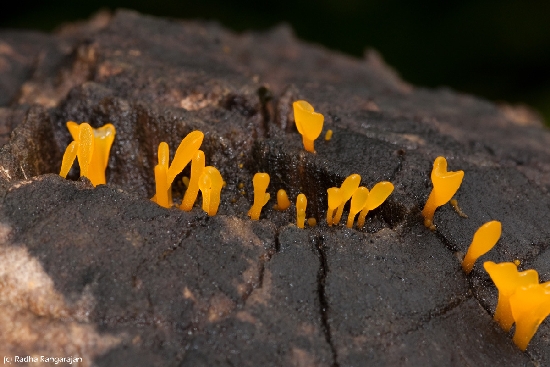 A vine snake was hanging around the evening before we left, it bid us adieu.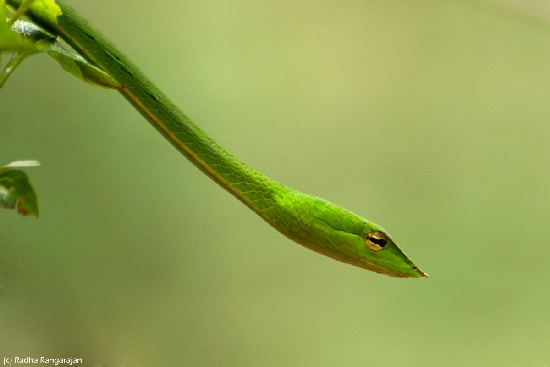 It was pack-up time already. We drove past "˜Dodda Mane", Malgudi Days was filmed here and the ancient bungalow was the home of the endearing little Swami. On the way back to the ugly urban jungle, I promised myself that I would return to Agumbe, for a longer trip, knowing that no amount of time spent here can be enough.
Until then and forever, there's one image that will remain etched in my mind from this wonderful trip.
The King's stare.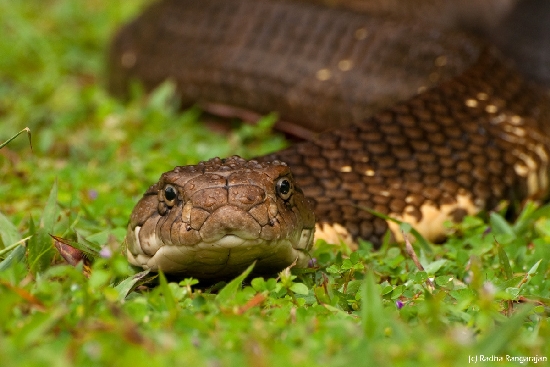 Photos by Radha Rangarajan.