Highlights of Goa Ride | Day 0 & 1 | Day 2 & 3 | Day 4
Day 0 – 28-Sep-2006:
I decided to have a head start, to reduce the distance to be covered on day 1 to 340KMs from 430 KMs. Started from Bangalore (directly from office) to Kunigal at 1630Hrs. I had come to office with my luggage (Cramster saddle bags & tank bag and a backpack). It was my usual weekend ride home of 90 KMs. Initial 40Kms was crawling which took me 75 mins to cover because of the usual traffic and weekend crowd heading out of town taking Friday off like me. Remaining 50KMs was breeze & covered it.
First leg of Goa ride completed. Repacked my luggage and retired to bed by 12 midnight. Falling asleep was not easy that day. It was going to be my longest ride.
Trip meter:
90 KMs – Bangalore – NH4 – Nelamangala – NH48 – Kunigal.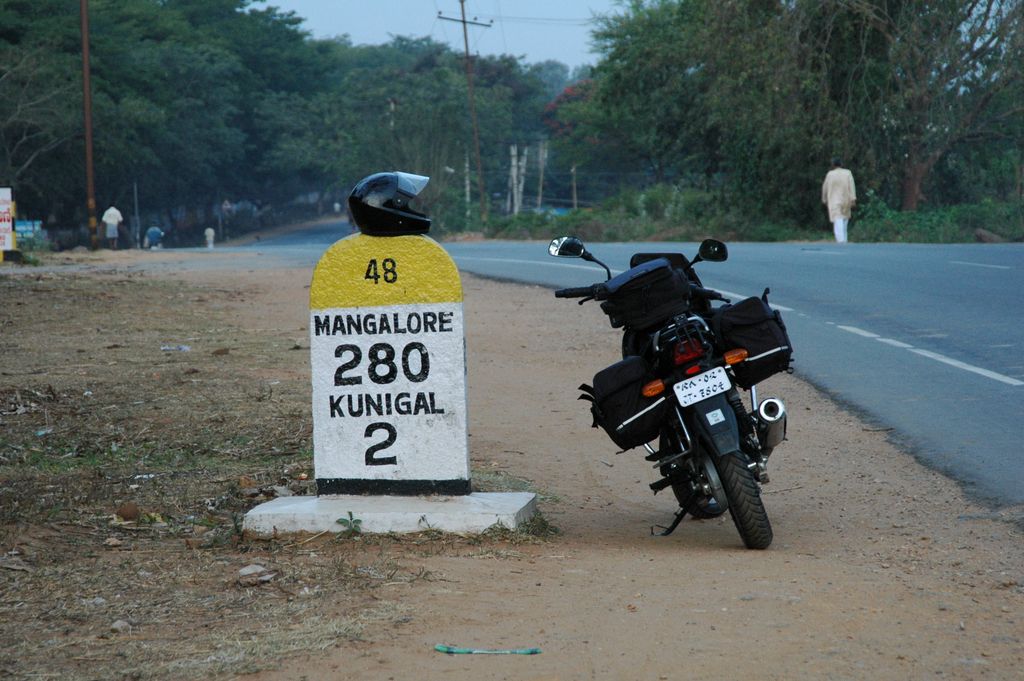 Day 1 – 29-Sep-2006:
It was not a good beginning. JSR, Kamlesh, Shashi, Vasanth, Praveen & Parvez were to meet at Yashwantpur Shell petrol bunk at 0500Hrs. Start from there at 0515Hrs towards Kunigal. Reach Kunigal by 0630Hrs. And all ride towards Udupi. By 0515Hrs, I was up & ready and waiting for call from them. Shashi called me to inform that Vasanth had a flat tire. JSR is going to stay back to fix it. Parvez is not reachable, rest three (Shashi, Kamlesh & Praveen) to start the journey. Certainly it was not a good start.
I started from home around 0630Hrs and within 5 minutes there they were – all the three thumping on their bullets. We decided to wait for JSR & Vasanth in a tea shop to join us and ride together. Time passed quickly and around 0730Hrs, JSR came alone as there were complications with Vasanth's Karizma. Before we were to start from Kunigal, we got message from Vasanth that, he and Parvez (he overslept and that's why he was not reachable) will be starting in another 20 minutes and catch us later on the way. After the tea break (0745Hrs) we started towards Udupi, Shashi leading the group and JSR sweeping behind. Beautiful NH48 was inviting. Shashi & Kamlesh were almost flying on their bulls, with me struggling to catch up with them on my Pulsar 150. Praveen behind me and JSR in the end. By 0900Hrs we had covered more than 80KMs from Kunigal, but no sign of Praveen & JSR. We three stopped at Kamath restaurant just after Channarayapattana for breakfast & waited for the other two. Got message from JSR saying Praveen's bike's clutch went kaput. Another 20 minutes wait, they joined us.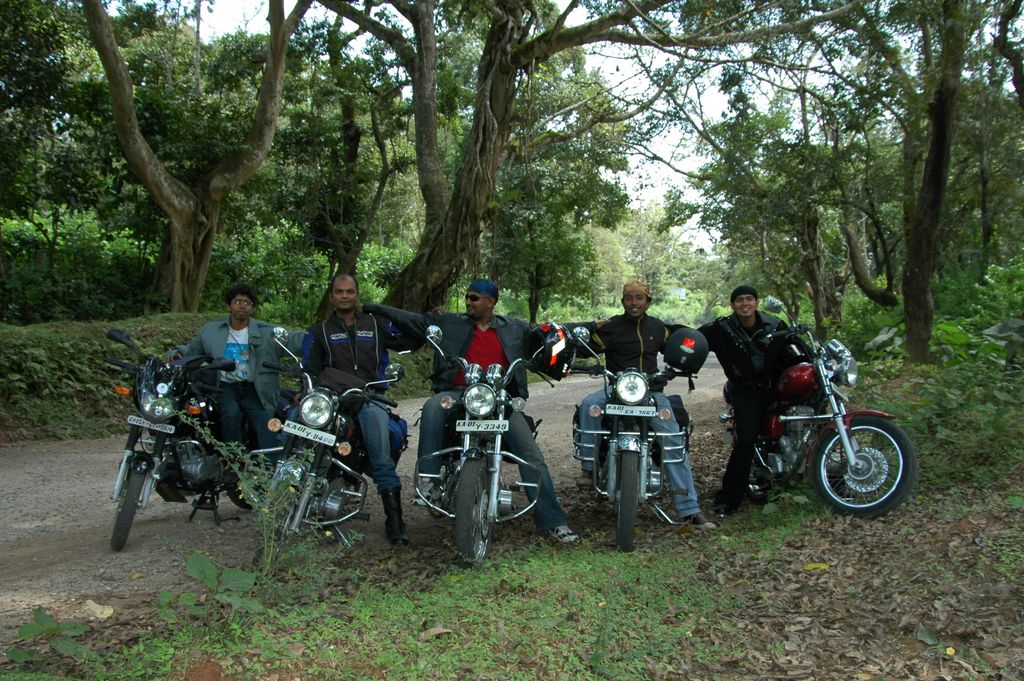 Idly, Dosa, Poori, Coffee, Tea – went in along with discussion on which route to take. Decided to take the scenic Charmadi ghat route. Updated Vasanth & Parvez on the same. Headed towards the destination with same combination Shashi as lead and JSR as sweep. Time flew by and so the miles. Reached Hassan. To avoid Hassan city traffic we took the by-pass road, went to the other end of the city and then took deviation towards Belur. Hassan-Belur stretch was a dream ride. A two lane road giving a feeling of riding in a European stretch. Past Belur, the road got narrowed with scarce potholes. By noon we were standing at the deviation right taking us to Mudigere city and left one Charmadi ghat. We had plenty of time with us and two more bikers trying to catch up with us. Stopped at a fuel station to top up Bulls. Proceeded for another kilometer and stopped for a long break. We spent almost 45 minutes lying on the grass road.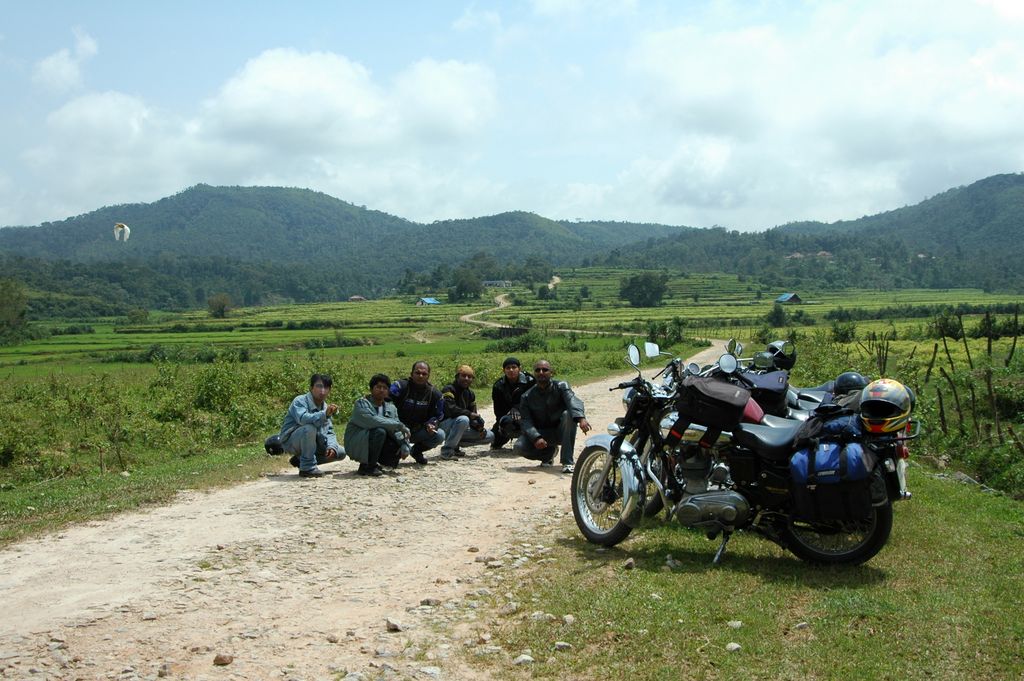 1300Hrs, we mounted our bikes and headed towards the ghats. Soon after we were staring into a stretch of road where it does not exist at all. A distance of 10-12KMs was lying in front of us with full of potholes which can be called as craters. Our speed dropped to as low as 5 to 10KM/hr. We stopped for a short photo session as except for the roas it was a very scenic place. We had almost reached final stage of our session and there came Parvez on his Yellow Karizma. With Vasanth still coming behind we continued. Soon craters were gone and ghats section started after we crossed Kottigehara. It was my first ride on twisty ghat roads, I thoroughly enjoyed it. As soon as we entered ghat roads, JSR got wings and disappeared ahead of us. Kamlesh went behind him with rest of us tugging behind.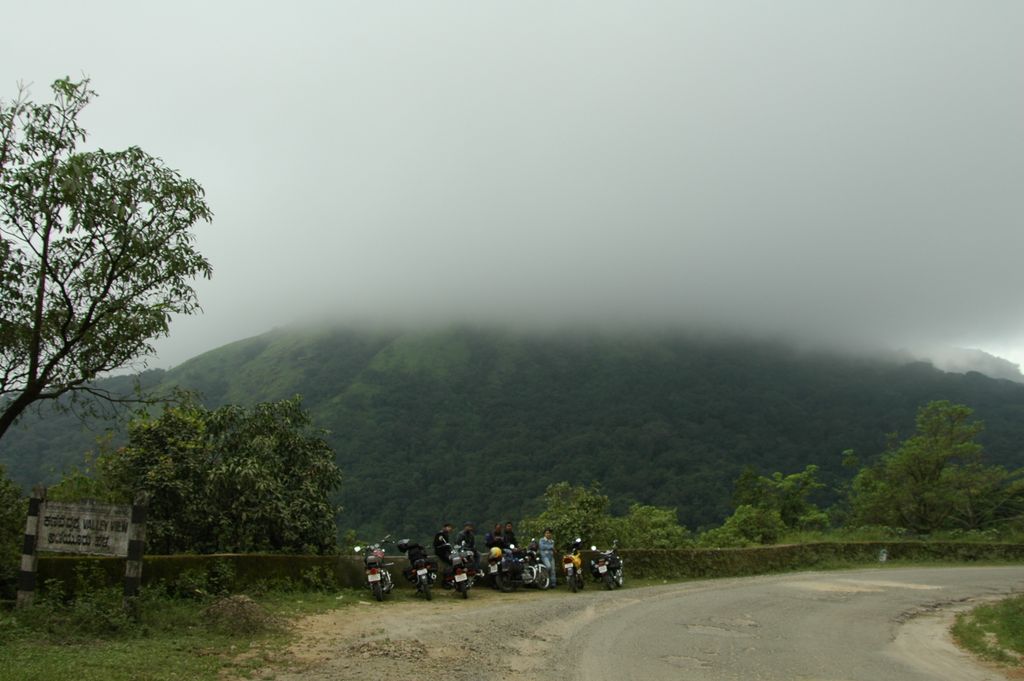 Two short breaks to give our butt a break before lunch break and then on the twisty roads all the way till Ujire by 1500Hrs. Stopped for lunch, still no sign of Vasanth. By the time we finished lunch, Vasanth came puttering searching for us. 1600Hrs, final leg of day 1 started. Group with size 7 moved towards Karkala via Belthangadi, Guruvayana kere, Naravi. Slight showers welcomed us to the other side of the ghat and stopped for another break near Karkala. It was nearing 1800Hrs. Another an hours ride took us to Udupi. Took us 10 minuts to search for a decent lodge. Had dinner in a nearby hotel and retired to bed by 2200Hrs.
Trip meter:
430 KMs: Kunigal – NH48 – Hassan – Belur – Mudigere – Kottigehara – Ujire – Beltangadi – Karkala – Udupi.