The noise of the bus died down as it went ahead after dropping me at this small sleepy village, Varanga. I walked along the mud road which the bus conductor asked me to take, "Keep on walking till you reach the lake, it's just 2-3 minutes walk", he had said. Personal experiences have taught me that when you ask a localite for distances/time to a certain place, you need to multiply by a factor anywhere between 1.5 & 3 to get the actual value. Just as I was mentally prepared for a long walk, there I was at the edge of the lake within 2 mins. I was proved wrong!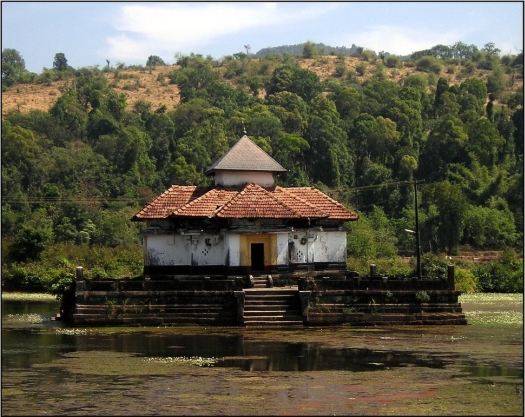 There I was looking at a small temple in the middle of the pond with full of aquatic plants and with backdrop of beautiful lush green hillocks. While I was savoring the beautiful nature, from a distance a person clad in white was waving to get my attention. Seated behind a small writing desk, he greeted me with a smile when I approached him. He was the priest who also acts as the boatman. He guided me to the boat what resembles a canoe made of metal. Boat is the only mode of transport to reach the Kere basadi as swimming is virtually not possible due to the density of the water plants. As the boat sailed making way between the lotuses and other flowers, it was as if I was is in some other universe. Standing in front of the basadi gives a panoramic view of the place – the village, old temples, green hillocks, cultivated land. Since I was the lone visitor at that time and the priest was also relatively free, both of us had plenty of time to spare with us in the middle of the pond. After spending handful amount of time, and then visiting other two basadis, I was back at the bus stop waiting for the rickety bus to take me home.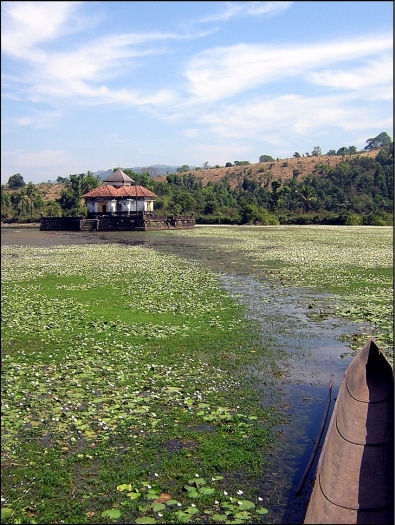 About Varanga:
Varanga is a Jain pilgrimage in Udupi district of Karnataka, which boasts of three old Jain temples. Chandranath basadi and Neminath basadi are situated on the bank of the pond. 'Kere Basadi' which is situated in the middle of the pond is a 'Chaturmukha basadi' dedicated to four jain tirthankaras – Parshvanath, Neminath, Ananthnath and Shantinath. The Kere basadi is said to be built during early 18th century.
Varanga is 25 KMs away from Karkala on Karkala-Hebri road (9KMs from Hebri). Approximately 385KMs from Bangalore and 90 KMs from Mangalore.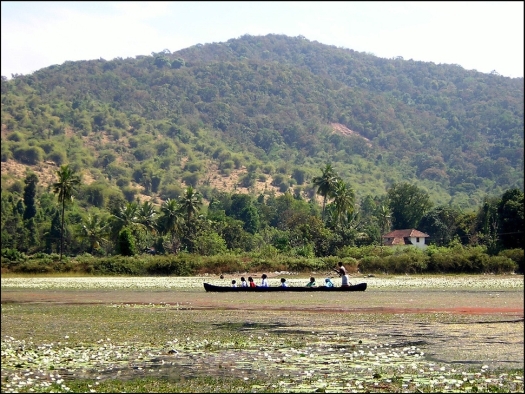 Kere basadi = 'kere' meaning pond/lake in Kannada and 'basadi' = Jain temple.
Chaturmukha basadi = A Jain temple with four identical doorways in four directions.