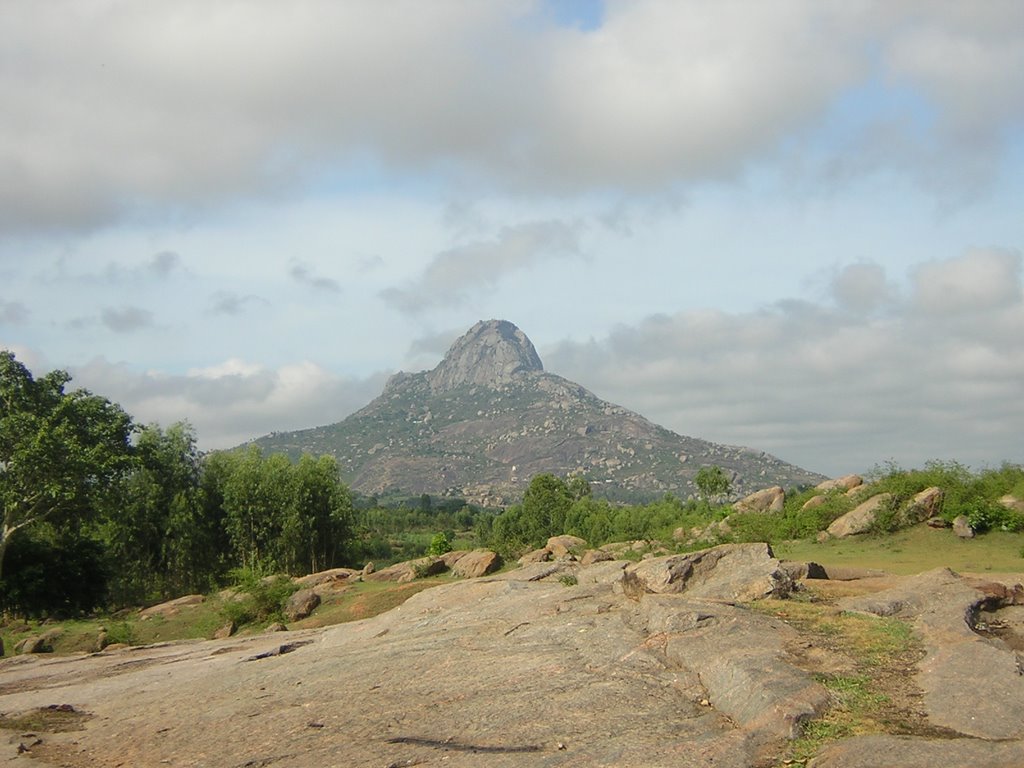 Last weekend I had been to Shivagange, which is around 60 kilometers from Bangalore. Started from Bangalore at around 7 AM on Saturday in two bikes – myself and my colleague Vineet. There are two ways to reach the place from Bangalore. The road till Nelamangala (28 kilometers from B'lore) is common for both routes.
Route 1: Take a left turn towards Hassan, (which further goes to Mangalore). Travel till Gudemarana halli (16 kilometers from Nelamangala). Take a right turn, travel for 15 kilometers to reach Shivagange.
Route 2: Instead of taking left near Nelamangala, go straight towards on Pune-Mumbai highway till Dabaspet (20 kilometers from Nelamangala). Take left turn and travel for 6 kilometers to reach Shivagange.
We took the second route and our own time to reach Shivagange. We stopped for countless number of times for photo sessions. And a breakfast stop at Dabaspet. It was around 9.15AM by the time we reached the Shivagange village. The distance to be covered to reach the top is approximately 1.5 kilometers (according to the locals!). We started our hike slowly and steadily, taking a lot of breaks since we had a whole day at our disposal.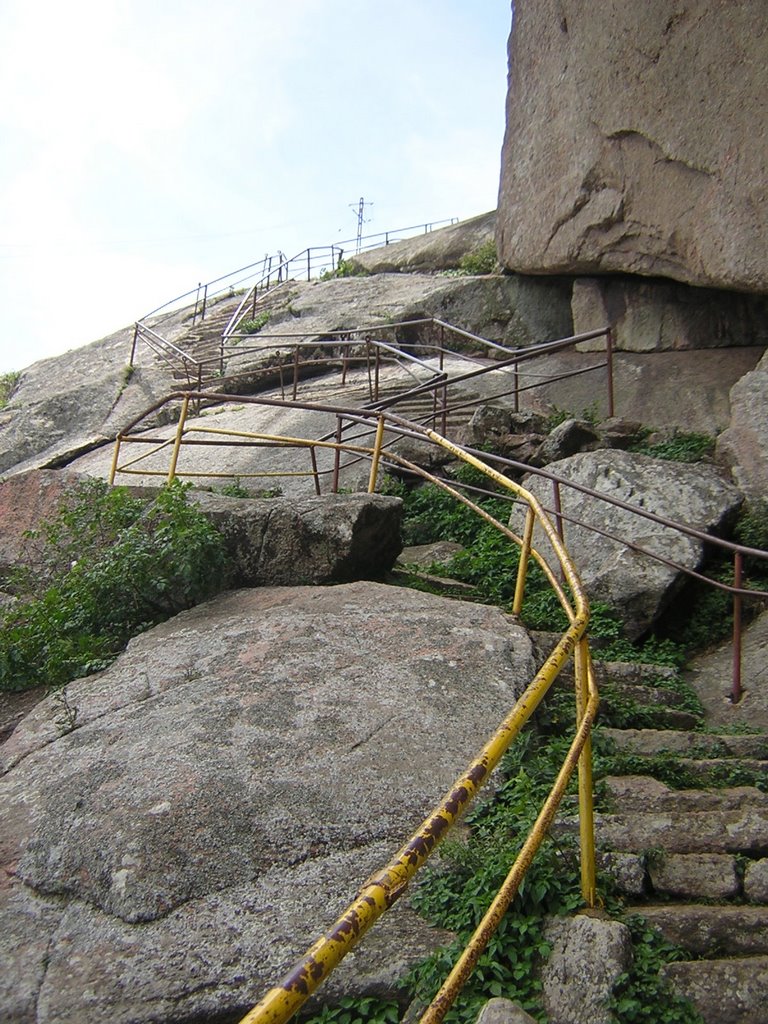 We managed to reach the top by around noon. We spent some time over at the top there and also visited the spot 'Shantala Drop' – a vertical drop similar to the Tippu drop in Nandi hills. The legend goes that Queen Shantala, wife of Hoysala King Vishnuvardhana sacrificed herself at this place. The drop is more than 500 feet.
When we reached the place, we were the only visitors except for the priest of the temple and a herd of monkeys. One thing we need to be careful is Monkeys. If you are not carrying any stick/staff to scare the monkeys, then be ready to get attacked by them. They not only snatch any bags/carry bags from you, but also check your pockets for any eatables. We started the descent by 1 since the monkeys outnumbered us by more than 1:50, and we managed to reach the base in an hour.
On our way back, instead of returning to Bangalore, we went my hometown – Kunigal. We reached Kunigal by 4PM
Route travelled: Bangalore – Nelamangala – Dabaspet – Shivagange – Kudur – Kunigal
Total distance covered: 85 KMs bike and 5 KMs of trek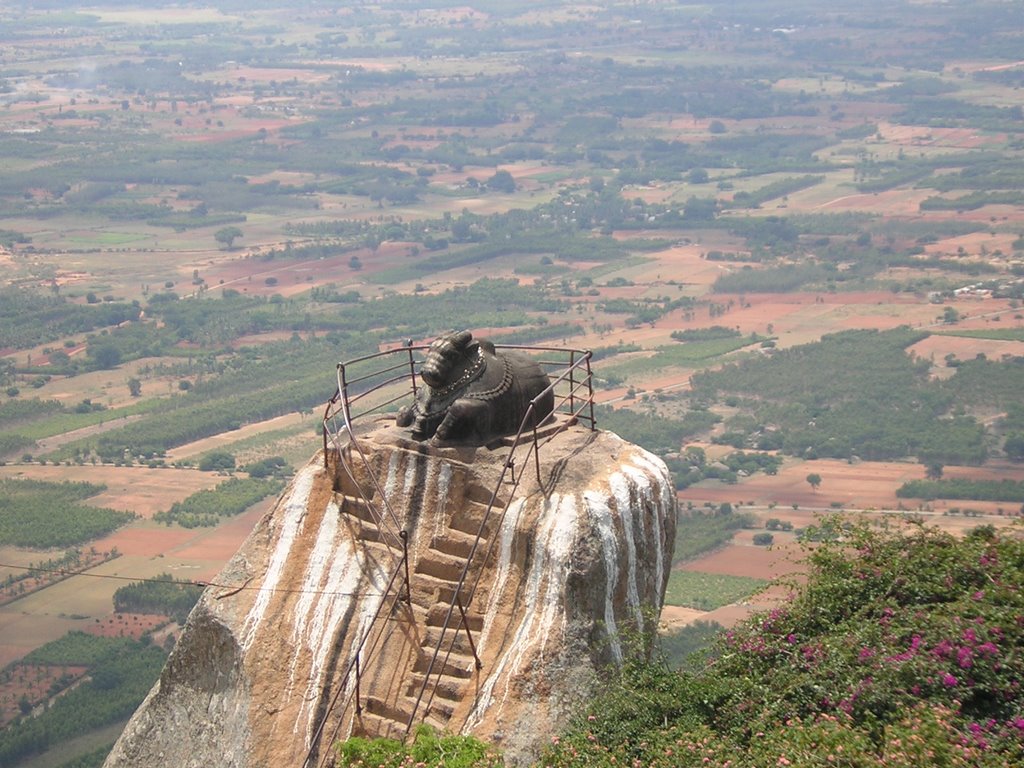 About Shivagange:
Shivagange, a hillock of more than 1000 feet, got its name because of the holy shrine of "Lord Shiva". There are numerous temples of Shiva, Parvathi and Ganga in the hillock. This place is also called as "Dakshina Kashi" – Kaashi/Varanasi of South India. One strange happening here in Shivagange is, if you do an 'abhisheka' of 'ghee' in the temple, the same ghee turns in to 'butter'. — No, I'm not kidding. I know few people who have witnessed the same. Hence it is compared with holy shrine Kashi.
Places of interest at Shivagange
Pathala gange – an underground spring, where water level goes down during rainy season and increases during summer!!
Olakal teertha
Nandi on top of the hill
Shantala drop
Veerabhadreshwara temple