"All Work And No Play Makes For A Very Dull Weekend". Being a long weekend and no any long weekend in the near future, I decided to go for a trek with BMC (Bangalore Mountaineering Club).
Day 0&1: According to the plan we were supposed to start at 10.30 PM from Symphony theatre on Friday, 28th April. But due to some unavoidable problems, we started at 11.45PM. Subbu joined us in Mysore. We reached Ooty by 7 next morning. Manju (Our drivers – Manju and Mohan), I say you quit this job and start thinking seriously about racing. Drive by Manju in Kalhatty region, which has 36 hair-pin curves, is one of the unforgettable moments. We joined Tarsh and Kavitha, who were already in Ooty to make arrangements and to get permissions from Forest Department. We got refreshed in Hotel Gaylord, and started towards Bikkapathimund (18 KMs from Ooty) after having breakfast. We reached Bikkapathimund Forest Rest House by 12 noon. After some refreshments, quick photo session, we started the trek to Siriyur.
From Bikkapathimund, which is at around 2100 meters above MSL, we started trekking down to Siriyur, which is around 350 meters above MSL. Initial half an hour was a walk through a jeep track and then we turned left walking through trees which were similar to pine trees. After one hour we were in an open space, standing on a peak, staring down at our destination – Siriyur.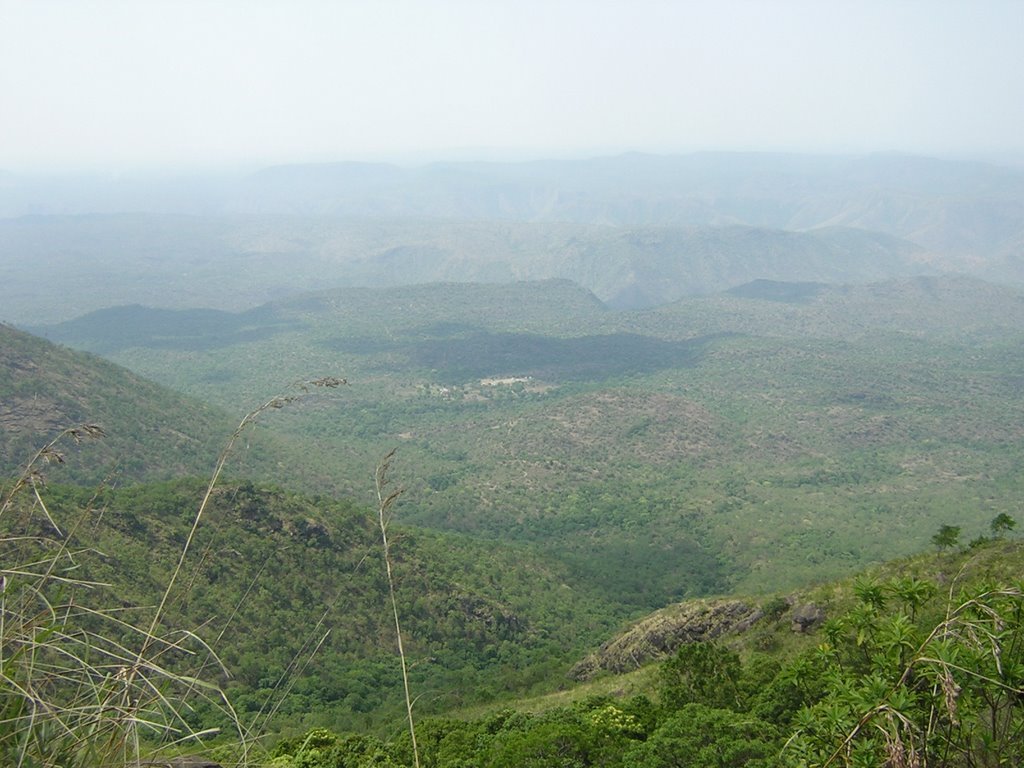 After a quick break, we started our steep descent to Siriyur. Trekking down was very much difficult. Around 3.30, totally exhausted, we reached Siriyur. There is a temple of Goddess Mari, worshiped by the Badaga tribes. We met few people (Badagas) who come to the temple to do monthly pooja. They come once in a month, stay for 3-4 days and go back. They suggested a different, easier, less steep route to get back to Bikkapathimund. Reach Ebbinadu from Siriyur and from there to Bikkapathimund. We started trekking up at around 5.30. Though the route back was easier comparatively, we moved on slowly in small groups, to avoid any wild animals. Gradually Sun set down and we switched on the torches. Once it was totally dark, we split ourselves into 2 groups. We moved on slowly under starry night.
By around 9, we reached a flat, mud road. Same road took us to Ebbinadu village. None of us were in a condition to walk another 5 KMs to Bikkapathimund, so called our cab driver to pick us up from Ebbinadu. We had to wait for the cab in Ebbinadu. Luckily there was a shop over there and we almost ransacked it. Ate whatever was available over there. And then the cab came, and we reached our base camp by 11PM. Thanks to Kavitha, who prepared a delicious dinner in a short time. By 12-12.30, all of us were fast asleep, after the quick dinner. That was the end of day 1, almost 30-35 KMs of trek. From 2100 Mtrs above MSL to 350 Mtrs above MSL and back – under 10 hours.
Day 2 – Escape to the Mountains – Day 2