Planning:
Till 10 in the night on Saturday, the plan was to ride to Chamundi hills alone and be back by evening. I came to know from Dr. Prithvi Raval about Girish's plan of riding to Shivanasamudra and decided to join him, Sachin and Rana. After discussing which route to take, we decided to take Mysore instead of Kanakapura road. Reason being – 4 lane highway for about 80 KMs. Our plan was to meet at Banashankari around 0630 hrs, and start the journey.
Introduction:
Got up early @ 0520. That's too early on a Sunday morning. By 6, I was mounting my Cramster Turtle on my Black Pulsar. Called up Girish confirming that I will be at Banashankari by 6.30 and started to the meeting place by 6.05. I was there by 6.25 and was expecting those guys to turn-up a bit late. But surprisingly, they reached the place in time. After brief introduction, we started off towards Shivanasamudra. I was leading the way since other three didn't know the route to Mysore road.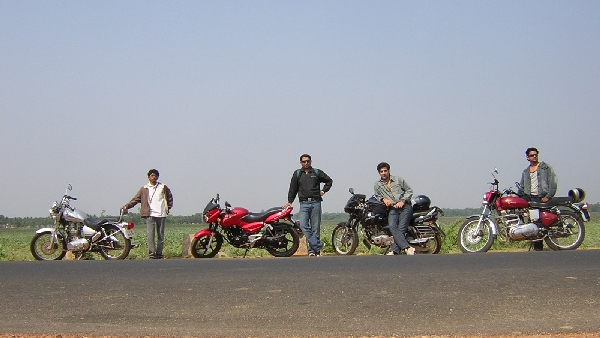 Fuel hunt and Breakfast:
The initial 40-45 KMs was a bit slow, searching for a petrol bunk which accepts credit card. Sachin was adamant not to pay by cash. Finally, he gave up, and topped-up the tank in Ramanagara by paying by cash. Once filled, we sped towards Maddur, our next stop – for breakfast. Reached there by 9 or so. Had breakfast in a hotel just before Maddur and a brief photo session.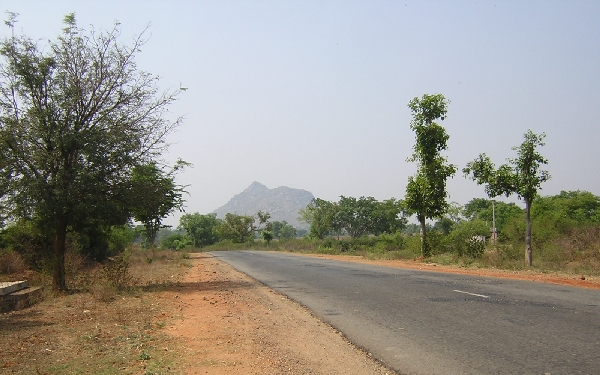 Our journey continued, and we took a left just after Maddur. The milestones were saying we are still another 45+ KMs from our destination. Our next stop was in between Malavalli and Maddur (Don't remember the place's name). It was very scenic – paddy fields on one side and a water-body on the other. It was time for another photo session and flex our muscles. When we were about to leave, there came another group of bikers and stopped for photo session, some 200 meters ahead of us. Our journey continued. After a few minutes of riding, we were on a bumpy road full of potholes. Once we crossed Malavalli, the road became better and were back to higher speed. Our next stop was 'Shiva Hydroelectric Station' – since no one is permitted inside (security issues), we headed towards the falls.
When we reached Gaganachukki, all of us were desperate to jump in to the water. But the local shopkeeper said its very dangerous to go near the foot of the falls. And he suggested us to move further up where we can easily take bath. We followed his directions and found a suitable place for taking bath. Rana was first to jump into the water and last to come out. It's very easy to convince a hippo to make him come out of water than making Rana coming out.
After spending a good one hour in water, we headed towards Bharachukki. First thought that came to our mind was – "We should have come here first before going to Gaganachukki" :(. In the end, due to time constraints, we decided not to jump in to the water. Instead, we took a boat ride (not exactly a boat, but a coracle).
We started off back towards Bangalore around 2PM after a brief visit to Darga near Bharachukki. Stopped for lunch @ Malavalli. After reaching the Mysore road, we (Sachin and Myself) lost track of Rana and Girish. So almost 40 KMs was a complete economy ride, riding at 40-50KMph and taking breaks every 10-15 KMs to cool our *you-know-what*. Both of us reached Kengeri by 6.30PM and still no sign of Rana and Girish. As both of us had other appointments, we departed. From there, I went to my friend's house and then back home. I reached home around 7.30PM and my bike's trip-meter showing 306.3 KMs – so far longest ride in a day for me.
That was the end of my first ride in a group. But still the beginning – still a long way to go.