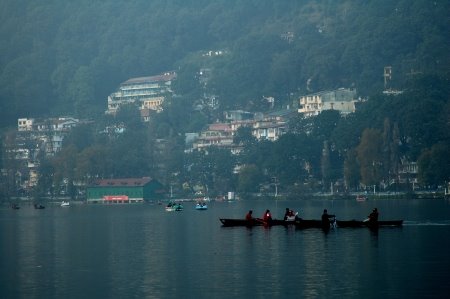 It's not easy to attain or reach good things in life. And so is to reach Binsar. As I've said before to reach Binsar one has to travel six to seven hours by road from Kathgodam. Between the two towns – Almora and Bhawali flows two rivers Kosi & Ramgarh parallel to the road. Down the line river Ramgarh joins Kosi & the bigger Kosi in south forms the eastern boundary of Corbett National Park. The water level was low, shallow & inviting. On our return journey we stopped for lunch at a hotel where river Kosi flows just behind. It wasn't easy to sit by riverside ordering for lunch & not taking a dip. We had plenty of time to reach Kathgodam to catch the train back to Delhi. And we jumped into the river. It was sheer fun swimming after a long time. Swimming in a river is more fun than in still water. Unfortunately, I haven't done this many times.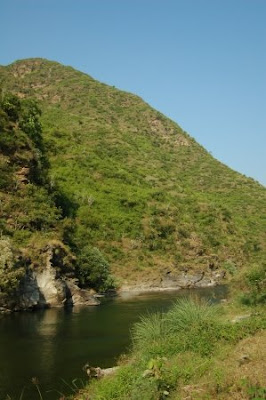 The signboard at Bhawali which said "Nainital – 10KMs" made us take an impromptu decision & we decided to pay a short visit. At the very first sight itself, Nainital, the place of Goddess Nainadevi didn't impress me. My first impression and thoughts were not to visit the place again. With lakebed completely crowded and polluted with concrete buildings and no question of scenic beauty in the tourist town. We stood there on the edge of the lake looking at the sorry state.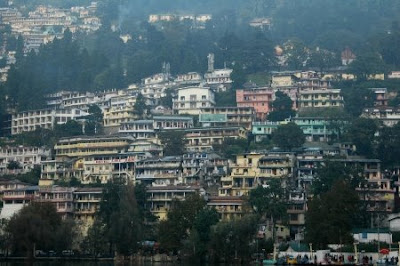 Light was diminishing, so were my chances of visiting Nainital in future and our journey home resumed. An overnight journey, delay of four hours in Delhi airport and usual traffic jams in Bangalore, I was back to the routine after a wonderful vacation at the Kumaon mountains.
Related blogpost on places around Binsar: