Continuing my rant about travel moments/incidents that catch us off guard and ponder about them, here is a conversation I was involved with an old man. If you haven't read about how we made a mess (and also kind of adventure) out of our trek plan, read here – Someone moved my mountain.
Manchanabele is one of the places visited by most of the bird enthusiasts living in Bangalore. During one of the days when I was interested in birding, I joined Shashank to visit Manchanabele. While we were running behind the birds, an old man from the nearby village approached us and there started the conversation between me and the old man while Shashank was trying to photograph a Golden Oriole which was perched on a tree. Keeping an eye on the Golden Oriole, Shashank was more interested in our conversation. Below is the conversation scripted by him.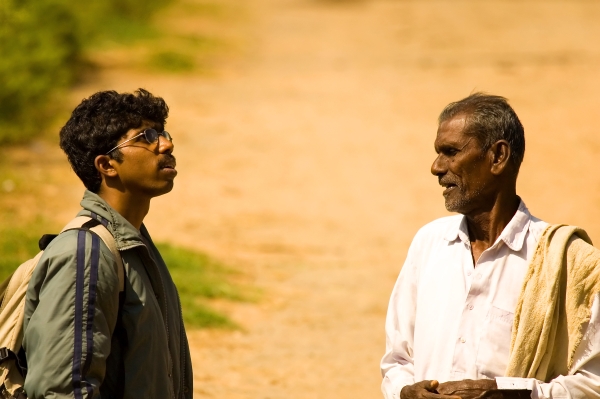 Lost in conversation – Me (6 years ago) and the old man.
(Photo and text by Shashank)
Old Man: So, you people are photographing eh?
(literal translation from Kannada comes out something like - "are you (two) hitting photos?" - but then languages of the orient are not translation friendly, so let us take just the sense and move on)
Me: (a bit distracted) yes.
(Oh yes, all we need now is a loud conversation below the tree to help the bird, which had probably seen us already, relax)
Old Man: What are you taking pictures of? the tree?
Me: (still distracted) No, actually we are shooting birds.
Old Man: Oh, where have you come from?
Me: Bangalore.
Old Man: Oh, so you people have come all the way from Bangalore to photograph crows and sparrows eh?
Me: (looks at the old man now) Ah, yes. Also many other birds. There is a lake nearby isn't it. Many varieties of birds are found around here!
Old Man: Oh is that so? You can take pictures of the cattle too, can't you? Buffaloes, oxen, sheep. There are many of them on the lake…
Me: Ah, yes of course. Thanks but I take photos of just birds.
Old Man: (clearly bewildered) Oh Ok. So you take the photo. What do you do with it?
Me: (uh oh! try explaining digital photography to someone in the countryside) We see it in the computer and then show it to everyone.
Old Man: Oh, so you can see the bird in the computer eh?
Me: (still watching the tree carefully for the Oriole) Ah, yes.
Old Man: What do you do with it then?
Me: (let me repeat it again) We then share it with others over the "internet". Everybody else watches it on their computer.
Old Man: What do you get from it?
Me: (thinking - "there can't be a tougher question than this in the world!") We will win prize if the photo is good. (Phew, took the easy way out!)
(I glow in the feeling of having made the old man feel special, of having made him feel he was watching something phenomenal being made. Then there is a long pause where I sight the bird again and start clicking.)
Old Man: Ok, I will go to the lake to fetch my cattle, God bless you!
Shashank: Ok, at least let me snap a picture of yours.
The conversation stopped as abruptly as it started. This was one of those many conversations I was involved wherein my situation is nothing different from a clueless fish trying to climb a tree 🙂