While travelling be it a planned trip or an unplanned wandering, we are bound to encounter few moments, incidents, conversations which catches us off-guard. It can be a conversation (funny or otherwise) or a planning completely gone wrong (which mocks all the pain we went through in planning the trip). When I look back at those incidents it makes a very good laugh and sometimes make me ponder about those incidents, even though couple of them derailed our plans. Here is one of those encounter when we went on a trek to (or should I say attempted to trek) Kumara Parvatha.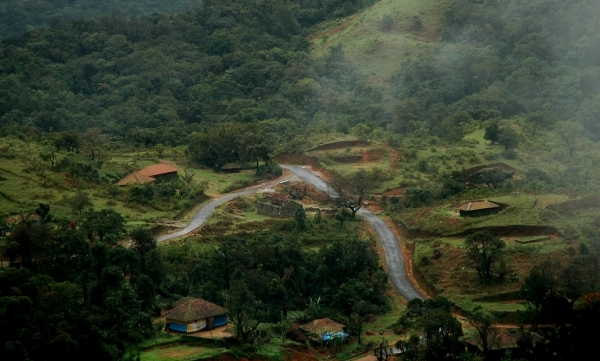 Any mistake can be forgiven for a view like this 🙂
Like most of the trek plans materialize, a plan to trek Kumara Parvatha happened during coffee break in office. It was end of June 2007, monsoon at it's peak. We were somehow didn't want to wait till end of monsoon since KP was eluding all of us except one. The one who had trekked Kumara Parvatha earlier kept on teasing us with his stories of all of his 7-8 trips. Dates decided, route discussed, responsibilities split up – we were all set to go. I took care of food for all five of us. Another friend took the responsibilities arranging the tents. And our KP expert took care of transportation (booking tickets on the state transport bus). D-Day approached, on Friday evening with all our backpacks loaded in the bus we settled into our seats. After an hour of excited chit-chatting we dozed off dreaming about camping on top of Kumara Parvatha.
It was still dark, around 4 AM when we got down from the bus at our destination. With the tea shop just opening up, we crossed the road to get some coffee and also information to reach the starting point of the trek. Here is the conversation that happened –
One of Us: When is the first bus to Kumara parvatha?
Shopkeeper (with a puzzled look): There is no mountain here in the surrounding.

Now it was our turn to return the puzzled look to him and other customers. And still we pressed on and our KP expert chipped in –
OoU: How can that be? I've come here and trekked the mountain 7-8 times.
SK: I've lived my whole life, there is no Kumara Parvatha near this place. Ask anyone here.
OoU (little bit of more info doesn't hurt): It's also called Pushpagiri. Lot of people come here fore trekking.
SK: Oh! Pushpagiri! That is close to 100KMs from here! Why did you come here instead of taking a bus to Somwarpet?

That's when it stuck us that we took a wrong bus to Virajpet, instead of Somwarpet. We were some 100 KMs away from our starting point instead of some 25KMs from Somwarpet. In all our excitement, we forgot to check & confirm the place we were supposed to reach and we were left with no other option to wait for 2 hours to catch first bus to Madikeri and then to Somwarpet.
With all this goof-up and extra journey, we managed to reach our starting point at around 1PM instead of 8 in the morning. We tried to trek in the incessant drizzle though we got late, but had to abort. We were half way through when it started getting dark and realized it'll be difficult to pitch our tents late in the night with wind & rain. Here is the story of that futile attempt. Though slightly disappointed, we came back home with a different kind of adventure, plenty of leech bites, and a story to remember & laugh whenever we meet. It has been five and half years since this incident & I'm yet to trek Pushpagiri. And I am not sure when I'll go there again!