After all additions & drop-outs, reducing trek duration from 4 days to 3 to finally 2, 10 of us were waiting in the crowded KSRTC bus stand at 10.30 PM to board the bus to Sagar. We reached Sagar bit late by 8AM to miss our direct bus to our trek starting point. Mahesh & our guides for two days Nayana & Umapathi (the cook) were waiting for us in the bus stand. After a quick refresh & breakfast, we started towards Kargal (not to be confused with Kargil :). We took a bus to Kargal and then hired a jeep to Channekallu. Beginning itself was adventurous as 12 of us crammed inside the jeep with our backpacks, sleeping mats, groceries for 2 days & cooking utensils. Jeep journey went on for an hour in the twisties of western ghats. By the time we reached Channekallu it was already noon. Sampath & Nayana distributed groceries to be carried by the individuals. Umapathi took responsibility of carrying cooking utensils.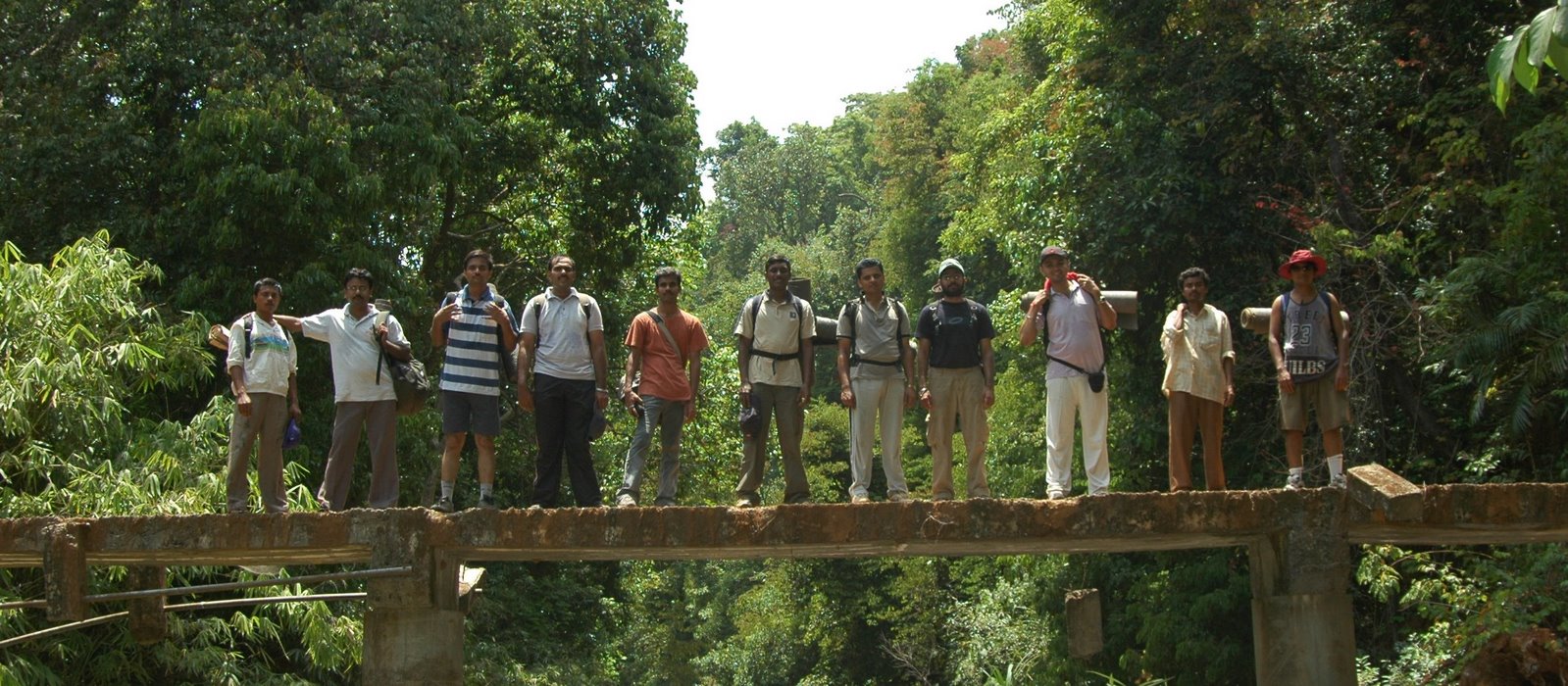 The Gang: Nayana, Manju, Ganesh Kuduwa, Srikanth, Dattu, Nithin, Sampath, Manpreet, Nishanth, Umapathi and Skandesh.
12.15, we set-off after a quick photo session. Our destination number one – Bheemeshwara (again not to be confused with Bheemeshwari near Bangalore). What started as a jeep track narrowed into a single path. It took us less than half an hour to get into deep jungles of Evergreen forests of Sharavathi valley. Initial stretch was almost flat with very less gradient ups and downs. We walked silently listening to chirping of the birds and continuous chirping of crickets. Stopping to take breaths & for photos we were aliens in jungle world. We stopped after an hour's continuous trek near a small stream. After a round of introduction, Nayana explained rules, Dos & Don'ts during the trek to the group.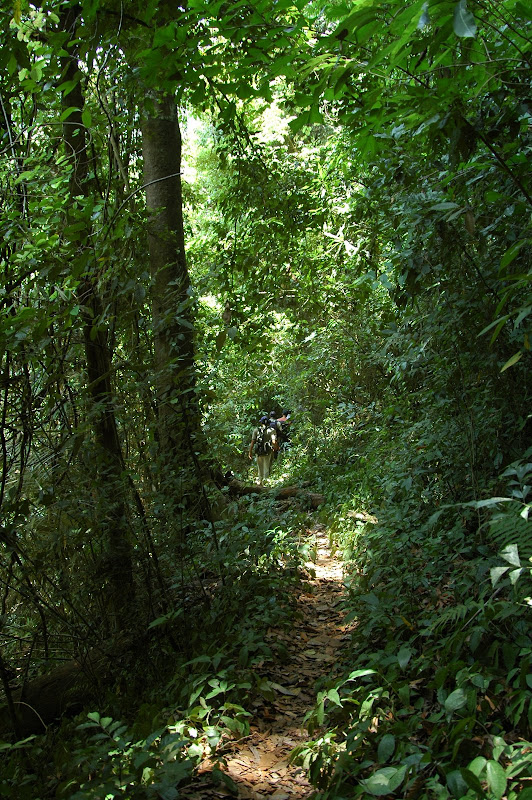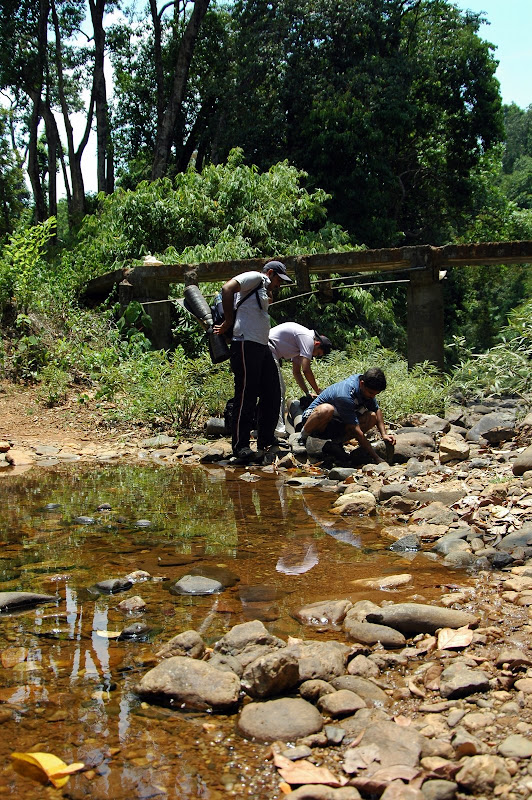 Journey continued after we filled stream water in to our water bottles. Ups & downs and flat ground here & there. We moved on slowly with Nayana leading the group & Umapathi at the end. Afternoon heat & humidity was troubling us. Another hour's trek, we reached a village – a single house village (forgot the villge name). The kids in the house gathered around, looking at us curiously from a distance. The house owner Chikkayya, treated us very nicely – one of the specialities of Sharavathi valley – the hospitality & humbleness of the people. Short break there and we started towards Bheemeshwara. The real trek began – stretch from the village to Bheemeshwara is very steep. And luckily we were completely under the shade of dense trees for most of the stretch. Short breaks here & there to catch our breath, to sip glucose water. And finally reached Bheemeshwara by 2.45.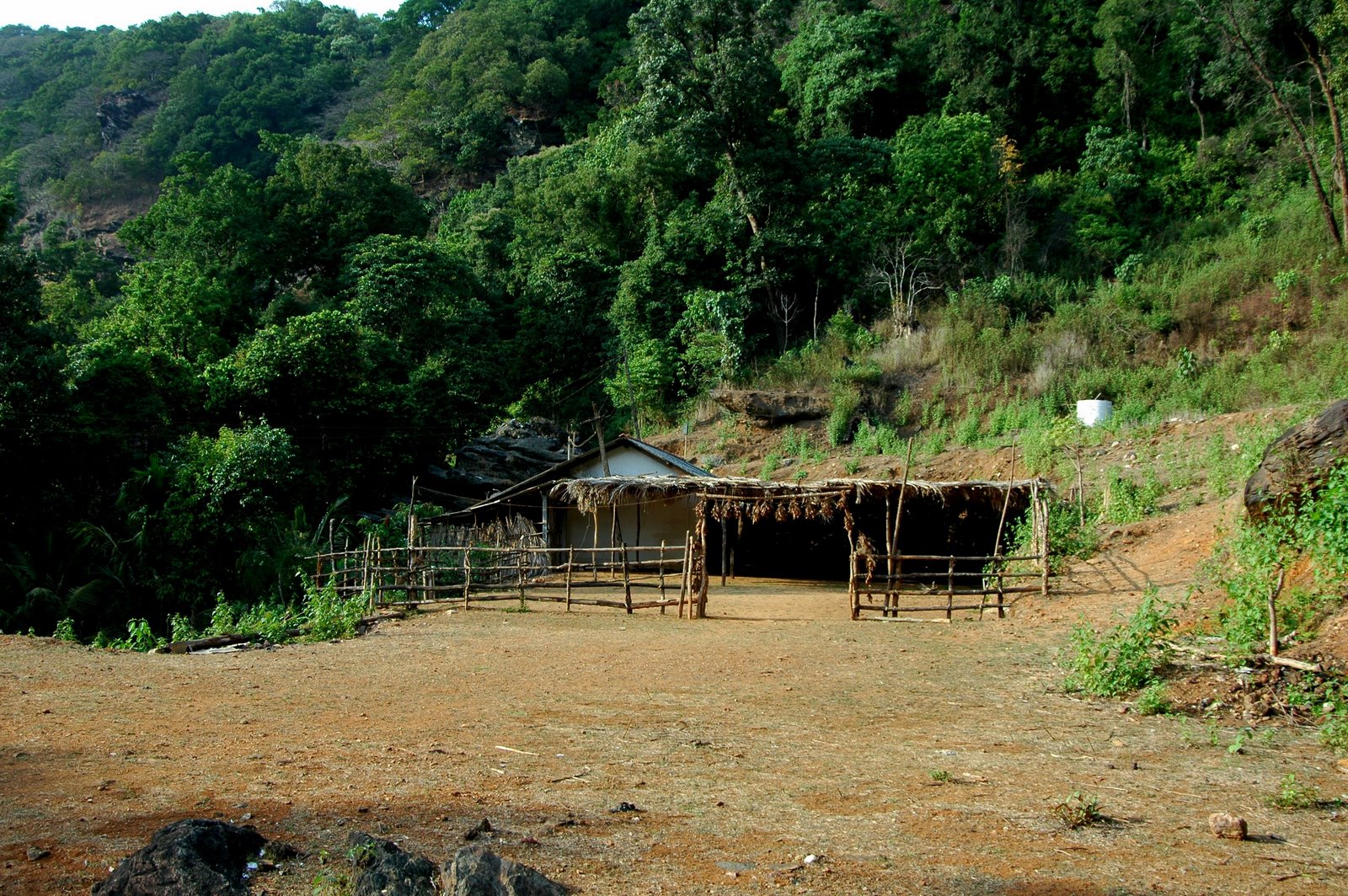 Priest's house @ Bheemeshwara. Waterfalls is just behind this house.
Bheemeshwara or Bheemalingeshwara is well known in the vicinity for the Shiva temple. Mythological story goes like, the Shiva linga was established by Bheema of Mahabharatha during Pandavas' agnaatavasa*. There is waterfall next to the temple called Bheemeshwara falls. And same mythological story says that the waterfall formed when Arjuna used his arrow to extract water from the rocks. We got these information from the priest who stays there near the falls in a lone house. End of rainy season is worth a visit to Bheemeshwara falls. As per the story, water in that falls never drains out. There will be water 365 days a year and local people confirm that. And to our bad luck when we reached the falls water was as if someone had opened a sink tap above. And it was mere drops. To get rid of sweat & heat we sat under the falls for half an hour.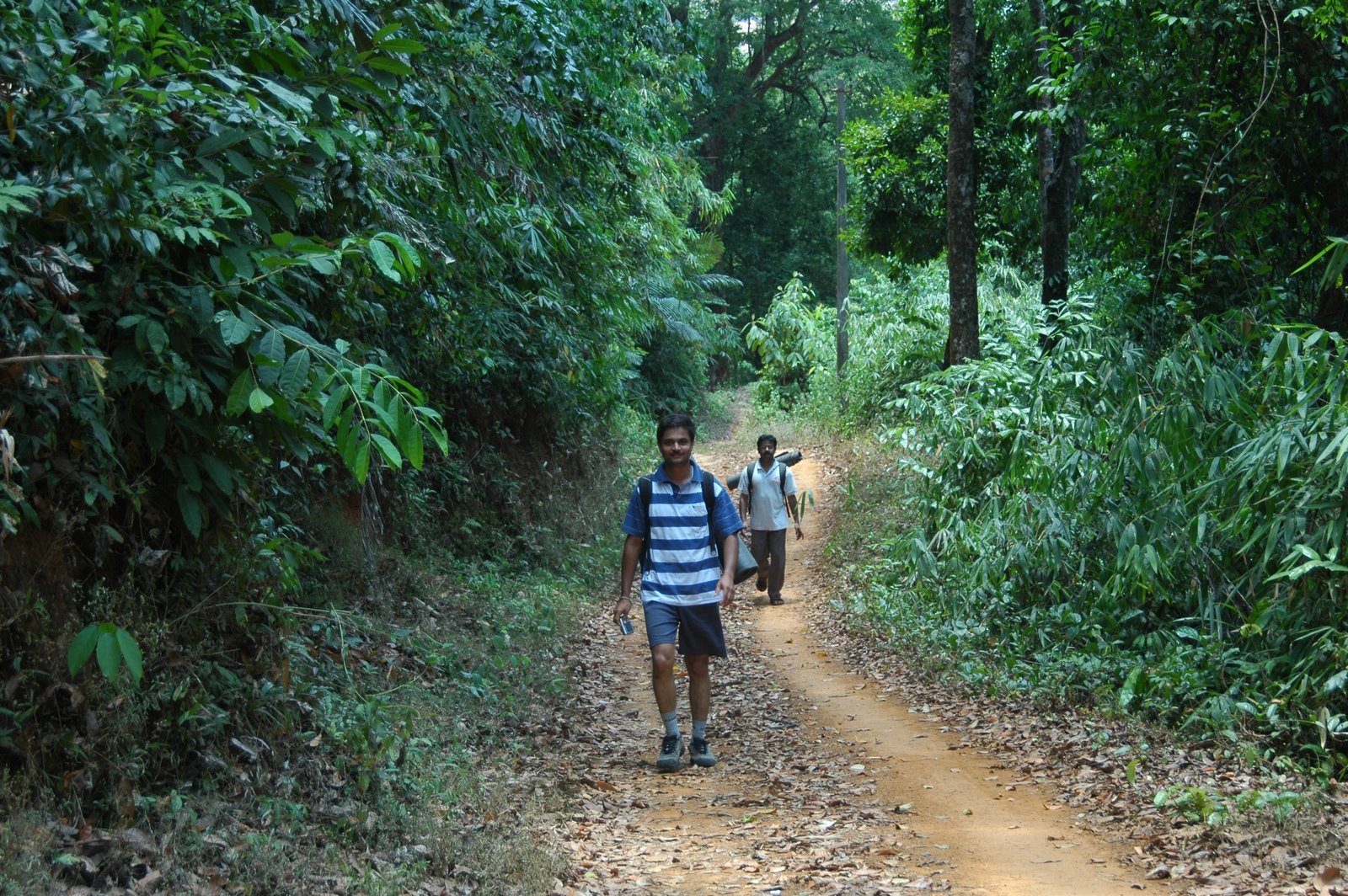 After taking bath & then blessings from Bheemalingeshwara, we returned to priest's house where lunch was waiting for us. Umapathi had prepared delicious lunch for us. We gobbled up the food in no time & spread our sleeping mats for a quick nap, to get recharged for the next leg of trek to Halgodu village.